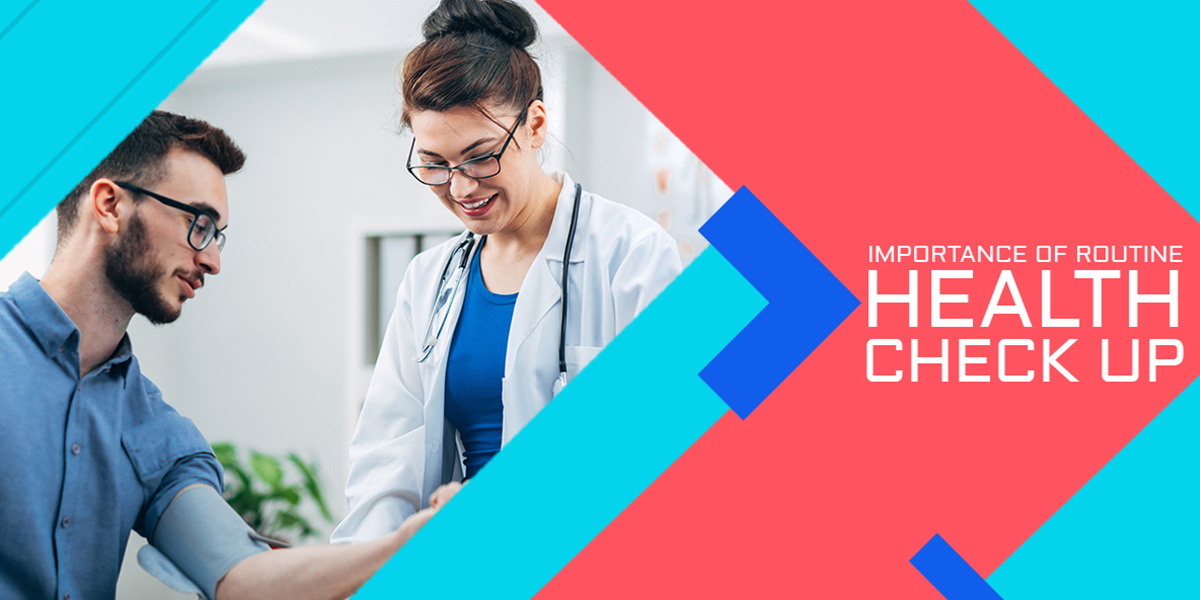 20 Jan 2023
The Importance of Conducting Routine Health Check Ups
It is important to have routine medical check-ups to keep track, and stay apprised of changes in your health. Seeing a doctor at least annually will ensure you are screened for different diseases and detect possible ailments for which you might be at risk. In diseases like cancer, early diagnosis can make a vital difference to outcomes.
The Importance of having regular health check-ups
Health screenings are a routine visit to your doctor with an array of measurements, observations and tests conducted. These screenings assess the state of your overall health and diagnose or flag up any problems that may arise.
When a patient performs routine health screenings this allows the opportunity to detect any health issues early. This becomes more important when you engage in a lifestyle which makes you prone to health risks. An annual check-up is a good idea for everyone.
Regular health check-ups are an essential part of your fitness routine
It is as important to undergo daily exercise and eat the right foods to maintain good health. Conducting health check-ups also includes screening in the form of laboratory tests and other scans.
These early detection methods and may differ based on your age, sex, family health and history. Doctors will advise patients on how they can work towards avoiding any lifestyle related problems. This is a great way to improve relationships between the doctor and patient.
Should healthy individuals require full-body check-ups?
Healthy individuals need routine health check-ups. According to medical experts, a full-body screening is a good idea for everyone, however fit and whatever their age. Even for healthy people, doctors will often suggest a regular full body health check-up.
The benefits of carrying our routine health check ups
Some benefits of regular check-up are the following:
Regular check-ups will ensure you can tackle any health problems early. With routine check-ups, you can reduce the risk of possible health illnesses. It can also decrease the probability of surgery and other serious medical procedures.
Diagnosing disease before progression
With routine check-ups, the doctors can diagnose an ailment before it progresses. These health screenings can be performed tailored to the age, sex, history and lifestyle choices of individuals. Doctors recommend several tests and preventative screenings to assess risk factors of patients. These screenings may detect diseases at an early stage which makes it easier to treat them.
Conducting necessary blood tests
The doctor will perform some blood tests with routine health screening. These will screen for diseases which may show up in your blood test results. Some of these might be:
Diabetes,
High blood pressure
Cholesterol
Anaemia,
Heart and Coronary Artery Disease
Cancer
These tests can enable the doctor to assess the function of organs such as heart, kidney, liver and thyroid.
Detect stress-related diseases
Busy work schedules and excess stress, can give rise to various diseases. An increase in anxiety and stress are directly linked to different diseases both physical and psychological. These may include:
High blood pressure
Hypertension
Weight gain
Asthma
Depression
Mental disorders
Alzheimer's
Gastrointestinal problems
Regular medical check-ups will make it easy to identify and detect these problems before they become more severe.
Routine check-ups for your health
The screening results will tell doctors about your present state of health. He may give advice or warn you about habits that may affect your An example may be neglect of dental health which may lead to future problems. When oral concerns are detected at an early stage, they can be improved with little change in your lifestyle. When a problem is detected at a later stage, it can be more difficult to deal with. With regular health check-ups, you can improve your health and lessen the risks of certain diseases such as –
Diabetes
High cholesterol
High blood pressure
Various cancers
Click here to book a consultation with our GP for your routine check-up.